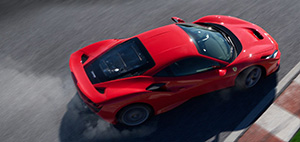 RSE Italia adds its spectacular Ferrari F8 Tributo to its berlinettas. It is a two-seater car, with an 8-cylinder V-engine equipped with a double turbine and a displacement of 3,902 cm³.
The engine is mounted in a central rear-wheel drive position and is capable of delivering a maximum power of over 720 hp at 8000 rpm and with a maximum torque of 770 nm at 3000 rpm in 7th gear.
Ferrari F8 Tributo is capable of accelerating from 0-100 km / h in 2.9 sec. and from 0–200 km / h in 7.8 sec., maximum speed of 340 km / h. Run on the track and come and try it for a real pilot's day!